SHOOT REPORTS AUGUST 2019 ONWARDS
1st SOLWARE UT WINTER SERIES November 3rd 2019

The day started off with mist, but the sun appearing by midmorning and then later the visibility declining due to the drizzle moving in after lunch. However the weather didnt put off several shooters putting in high scores.
HIGH GUN: Dick Fletton 98/100
2nd: Chris McReynolds & Phil Rowley 97/100
Well done lads, great shooting!
Next Shoot: November 17th 2019 1st SOLWARE ABT WINTER SERIES
November 24th 1st SOLWARE HELICE WINTER SERIES & CAMBRIDGE & NOTTS HELICE CHAMPIONSHIP
Good to see new and regular shooters enjoying their shooting and thank you to you all for your support of our shooting ground, always appreciated.
Oxford County Helice Championship October 27th 2019

For the end of October we were very lucky to have a lovely warm sunny day with just a slight breeze, as we hosted the Oxford County Helice Shoot. We had six squads take part and some great shooting by many shooters.
Junior Jonti Spilman taking competition top spot again, we have a lot of talented junior shooters and its so good to see them shooting so well.
High Gun Jonti Spilman 21/24 & Alan Rowley 21/24 (B/O) - great shooting lads.
Hot on their heels were Steve Cox 20/24 and tying for 3rd place Trevor Hawkins & Alex Smith 19/24.
Oxford County results: Congratulations to you all.
Oxford County Champion : Steve Cox 20/24
Silver: Stuart King 18/24
Bronze: P. Farrell 17/24
Many thanks for your support of our shooting ground and great appreciation to all who stayed behind to help clear up and put equipment away.
Next Shoot: Start of our Winter Series November 3rd UT
Very kindly Sponsored by Solware Ltd, Unit 1 Tame Valley Business Centre, Magnus, Tame Valley Industrial Estate, Wilnecote. Tamworth Staffordshire B77 5BY Telephone 01827 215 222
West Midlands County & Area ABT Championship October 20th 2019
We had a fantastic 12 full squads enter these championships, although a very busy day for the team running the shoot it was a great atmosphere and many shooters putting in really high scores both in the open shoot and the championship.
We had three shooters on 96 x 100 - Kevin Borley, Dave Hardy and Matt Panter.
Closely followed up by Paul Gowrie and Matt Jones on 95 x 100 - Congratulations to you all.
Well done Gloucester taking the team event with Cheshire runner up and Hereford and Worcester in third position. See below for all results. There were many 25 straights inluding Kevin Borley with three and our local Junior Ben Dingley. Great shooting by so many. Thank you for the shooters that stayed behind to help clear up, it was very much appreciated particularly at the end of a very long day. As always many thanks to all shooters for your continued support of our club, we never take your loyality for granted.
Next Shoot: Oxford County Helice Championship - October 27th
***When texting or emailing to enter a shoot please remember to include your CPSA number, as it saves a lot of time for us to look up every shooters number, which have to be included when returning the scores to CPSA.
Many thanks to SOLWARE GUNS TAMWORTH tel: 01827215222 who are very kindly sponsoring our Winter Series.
1st SOLWARE UT WINTER SERIES - NOVEMBER 3rd
Oxford, Leicestershire & Rutland County UT Championship - October 13th 2019
Rather changeable weather greeted the shooters for these Championships, starting of dry then turning to light showers in the afternoon and the wind pushing the targets on and later visiblity declining, but some shooters putting in really good scores.
High Gun: David Wright 94 x 100 - Congratulation good shooting David.
Runner Up: Darren Wood 93 x 100 Just one bird behind Darren also good shooting.
Dave Hardy & Fletcher Watson 90 x 100 Well done all of you.
See below for County and Open shoot scores.
Many thanks for your support of our club, always appreciated. We still have some shooters that have shot with us for over 30 years when we first set up and we have never taken your loyal support for granted.
Lincolnshire Helice County Championship September 22nd 2019
It was a day of many variants of weather sun, rain and wind as we held the second Lincolnshire Helice County Championship and when we had rain the light became very poor, but we still had some great scores!
Junior Alex Horton won the County and Junior Championship 20 x 24 Congratulations Alex very well shot and great to see a junior taking the championship.
Jackie Houghton Ladies County Champion 13 x 24.
Trevor Hawkins Senior County Champion 19 x 24
Marvin Houghton Veterans County Champion 18 x 24
Richard Gray Super Veteran 16 x 24
Great shooting and congratulations to you all.
OPEN COMPETITION
Ben Killian 23 x 24
Wayne Killian 22 x 24
Andy Stratford & Alistair Williams 21 x 24
Well done to all a lot of high scores considering the poor light as time went on and the varying wind, but congratulations must go to Junior Ben Killian shooting 23 x 24 (beating his Dad by one target!) and the one that got away he hit first barrel only to have the witness drop over the fence. It really is fantastic to see a junior shooting so well and leading the way against shooters that have been taking part in (what some would say) this the most difficult form of shotgun shooting for many years. Ben along with Jonti Spilman and Ben Dingley will be heading out to Rome next week to represent GBR in the World Helice Championships as our Junior team. We wish all the shooters in our GBR teams heading out to Italy the very best of luck and to all the shooters taking part hope you have a great trip a bring back lots of medals.
Once again many thanks for your support of our shooting ground, never taken for granted and very much appreciated.
Leicester & Rutland ABT County Championship September 15th 2019

A lovely sunny day for the 6 squads that shot the ABT today. Results in the contest for the Leicester & Rutland County Championship:
Veteran and County Champion: Peter Boden 94 x 100
Senior County Champion: Darren Judson 79 x 100
Colts County Champion: Rory Richardson 79 x 100
Sadly no ladies medals were contested.
Congratulations and great shooting by all the County winners.
Open competition
1st Kevin Gill 95 x 100
2nd Peter Boden 94 x 100
3rd Wayne Killian 93 x 100
Fantastic shooting lads, very done to many of the shooters quite a few in the 90's Sincere thanks to all our shooters for your loyal support of our club and we look forward to seeing you sometime hopefully in the near future.
Next Shoot - September 22nd Lincolnshire Helice County Championship. A good opportunity for Helice shooters to get some practice in before heading over to Rome at beginning of October for the WORLD HELICE CHAMPIONSHIPS.
Warwickshire County Universal Trench Championship September 8th 2019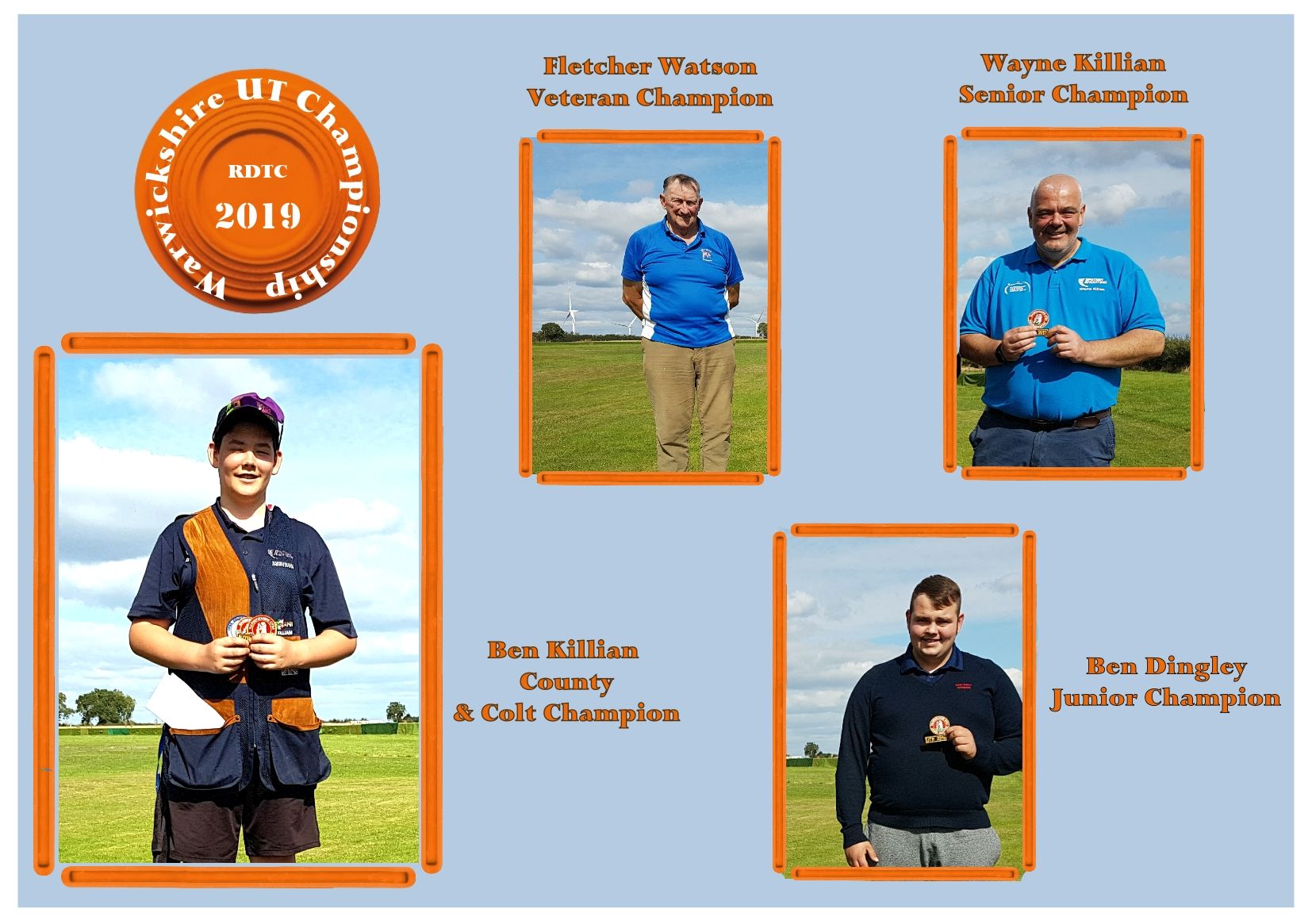 Colt takes Warwickshire County Championship
After an early chilly and frosty start to the day it turned out to be very pleasant and quite warm in the sun for the 6 squads we had enter and they put in some good scores for the Warwickshire County UT Championship.
Congratulations to Ben Killian taking County and Colt Championship with a score of 92 x 100 + 24
Runner up and Veteran Champion Fletcher Watson 92 x 100 + 21.
Colts Runner up: Jonti Spilman 84 x 100
Junior Champion: Ben Dingley 83 x 100
Senior Champion: Wayne Killian 91 x 100
Senior Runner up: Chris McReynolds 87 x 100
Veteran Runner up: John Lewis 90 x 100
Competition High Gun after shoot off: Dave Hardy 94 x 100 + 25
Runner up: Peter Boden 94 x 100 + 23
Impressive shooting by many shooters, very well done to you all. Many thanks to all the shooters for your continued support of our shooting ground, always appreciated and good to see new and old faces enjoying our facilities. To encourage youngesters into the sport we allow under 21's to shoot free of charge for birds only and if they want they can pay a supplement to enter the competition, this applies to all the disciplines.
Practise on Wednesday's from 11am - 4pm for UT and ABT
Next shoot: September 15th Leicester and Rutland ABT Championship
September 22nd Lincolnshire Helice Championship
Warwickshire & Derbyshire County Helice Championship August 25th 2019
Summer returned with a beautiful hot day in time for the Warwickshire & Derbyshire County Helice Championship, although it was a disappointing turn out. Being the bank holiday and some of our Helice shooters over in France for the Le Touquet we ended up with ten shooters for the Warwickshire and two for Derbyshire championship. A total of fifteen shooters, however those that did take part enjoyed the day.
Richard Williams - High Gun (b/0)and Warwickshire & Senior County Champion: 23 x 24 Congratulations Richard superb shooting!
Wayne Killian, Ben Killian ( comp ) & Donovan Jenkin (b o) all on 21 x 24
Ben Killian - Colts- Warwickshire County Champion: 21 x 24
Ben Dingley -Junior-Warwickshire County Champion 19 x 24
John Lewis- Veteran- Warwickshire County Champion 17 x 24
Gary Webster -Derbyshire County Champion 15 x 24
Bryan Ward-Veteran Derbyshire County Champion 10 x 24
Some great shooting and very well done to all county champions and non county shooters who put good scores in.
Many thanks to all our shooters for your continued support of our shooting ground.
Next Shoot: September 8th Warwickshire UT Championship